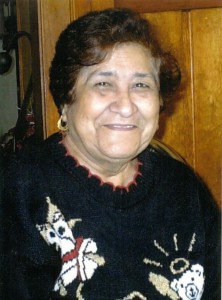 Felicita Garcia, 84, of Texas City passed away on Wednesday, September 30, 2015. She was born on December 26, 1930 in Texas City, Texas to Alfedo and Magdelena Hernandez.
She lived most of her life in Freddiesville, Texas. Felicita was a longtime member of Mainland Assembly of God Church.
She is preceded in death by her parents Alfedo and Magdelena Hernandez; her son David Garcia, Sr., grandson Jose Villarreal, Jr., and her two brothers. She is survived by her five daughters and sons-in-law; Annie Rocha and Robert, Rose Fagan, Norma Jean Carrera and Israel, Elizabeth Ann Garcia and Ruth Cintron and Pablo; her son Maximo Garcia III; numerous grandchildren and great grandchildren.
She had a special love for all her grandkids and great grandkids.
Visitation will be Tuesday, October 6, 2015 from 5:00pm – 8:00pm at the James Crowder Funeral Home in La Marque. Funeral Service will be at 10:00am on Wednesday, October 7, 2015 at the James Crowder Funeral Home with Brother Tony Garza officiating. Burial will follow at Galveston Memorial Park Cemetery in Hitchcock, Texas.
Pallbearers will be Tina Torres, Sammy Vasquez, Jose Torres, Jr., Robert Villarreal, Pablo Cintron, Tyrone Steele and Israel Carrera.