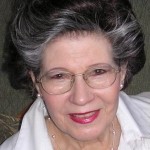 Faye Marie Stutes Weber, passed away unexpectedly April 12, 2014 at the age of 82. Born in Lafayette, Louisiana, November 12, 1931, she moved to Houston at the age of two with her parents, Ernest and Laurence Stutes. She attended Blessed Sacrament Grade School and graduated from St. Agnes Academy in 1949, during which time she completed 9 years of piano lessons. She met her true love, Bert Luke Weber and they were married in 1950. She was the perfect, gentle, devoted and loving sister, wife, mother, aunt, grandmother and great-grandmother. Her greatest joy was caring for her family and her home. Her gentle quiet manner often veiled her wonderful sense of humor. As an accomplished pianist, she gave great joy and inspiration to her family. A member of Our Lady of Mt. Carmel Catholic Church, her life epitomized the true meaning of being a devout Catholic. We can only aspire to follow in her footsteps.
She is preceded in death by her parents, Ernest and Laurence Stutes, her husband of 36 years, Bert Weber, and her grandson, Blake Weber. She is survived by her daughters, Janice and Gene Surrency; Veronica (Vickie) and Terry Tollefsbol; Celeste and Richard Halata, and by her son, Bert and Kim Weber; her sister, Rita Arnaud and brother, Dick and Cil Stutes; 17 grandchildren, 18 great-grandchildren, numerous nieces and nephews.
Visitation will be held on Tuesday, April 15, 2014, from 5-8pm with a vigil to begin at 7pm, at Crowder Funeral Home Pearland. Mass of Resurrection will be Wednesday, April 16, 2014 at 11am at Our Lady of Mt. Carmel Catholic Church, 6723 Reed Rd Houston, TX 77087. Interment to follow at Forest Park Lawndale. Pallbearers: Brian Halata, Trevor Tollefsbol, Ryan, Chad, Grant, Dylan & Logan Weber.
In lieu of flowers, please donate to the American Heart Association and Cystic Fibrosis Foundation.