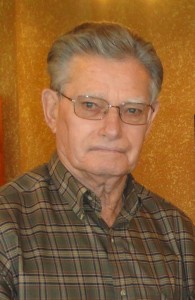 Everett Doyle Young went home to be with the Lord on January 31, 2016 in New Caney, Texas.
He was born on March 3, 1939 in Jacksonville, Texas and was preceded in death by his Father, Timothy F. Young and his Mother, Ora M. Young, his beloved daughter, Stephanie Young as well as his sister, Betty Stem, and brothers, Elton Young, Willie Young and Grady Young.
He is survived by his sister Faye Goad , Daughter Vicki Young Herman and Son-in-Law, Dan Herman, Grandchildren Brittanie, Ashley, Carrington, Hunter and 4 great grandchildren
Son, Tim Young and daughter-in-Law, Jan Young. Granddaughters Jaycee, Priscilla
Son, Everett Young and Daughter-in-Law, Tiffany Allen grandson Dalton
Step daughter and Stepson in law, Cindy and Tony Young, granddaughters Julie, Amanda, and Elizabeth
Nieces and Nephews, Sharon and Allen Portman, Karen and Paul Adkins, Lisa and Buddy Raines, Neil Young, Mike and Pat Young, Jeannie Young, Chris and Scarlett Portman
Lifelong Best Friends, Perry and Lanell Lovelady, Leldon and Tinkie Scruggs.
Visitation will be Thursday. February 4, 2016 from 5:00pm until 8:00pm at The Fellowship of Texas City. The funeral will be Friday, February 5, 2016 at 1:00pm at The Fellowship of Texas City, Bishop Delbert Herrin Officiating, with interment at Galveston Memorial Park under the direction of Crowder Funeral Home
In lieu of flowers, you may send memorials to Alzheimers Foundation, 225 N. Michigan Ave., Fl. 17, Chicago, IL 60601-7633