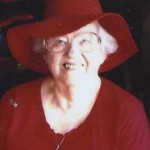 Evelyn was born on December 18, 1922, near New Carlisle, Indiana. The first of 6 children, she grew up on a dairy farm. She married Harold Grise on July 27, 1940. They were the parents of four children – Georgia Lee Arvidson, Ruth Ann Osburn, Harold Irvin Grise, and Daniel Craig Grise.
Harold was ordained as an Associate Pastor in Evansville, Indiana, in 1944. Evelyn was a stay-at-home Mom. During the 1950's she was the matriarch of the Singing Grise Family. They played at churches, Lion's Clubs, and Grange meetings to spread the message of hope through faith in God. At the same time she managed 4 midwest states for Dutchmaid Clothing. She was also involved in Girl Scouts, Women's Church Choir, other church activities, and preparing 4 children to attend college.
In 1975 they moved to Dickinson, Texas, bought a small home on the Bayou, and settled in to become naturalized Texans. They joined the Dickinson First Baptist Church, where Evelyn taught Sunday school until her passing. They continued to spread the message of God through music. They celebrated their 50th wedding anniversary in 1990. Harold passed in 2003.
Evelyn is survived by her five siblings, four loving children, and many grandchildren and great grandchildren. A viewing will be held Friday, February 7, from 4-7pm at the Crowder Funeral Home, 851 FM 517 West, Dickinson, Texas. The memorial celebration will be Saturday at 11:00am at Dickinson First Baptist Church, 2504 44th Street, Dickinson, Texas. In lieu of flowers please send contributions to the Dickinson First Baptist Church in memory of Evelyn Grise.