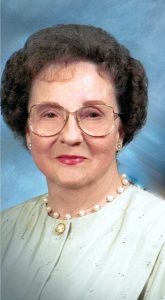 Evelyn Lawing, was born May 14, 1927 in Ft. Worth, TX and passed away November 2, 2016 in Houston, TX.
Formerly a resident of Houston, Evelyn lived in Pearland, TX for the past 30 years. Evelyn worked for Weisenburg Insurance Agency in Houston and attended First United Methodist Church Pearland.
Evelyn enjoyed cooking and considered herself to be a chef rather than a cook. She loved travel and ballroom dance. For many years she volunteered as an office worker at the church where her professional skills and her faith merged into a singular experience of devotion. Evelyn was a dear friend to many in her community.
Evelyn is preceded in death by her parents, William and Clara Krause.
She leaves behind her husband of 71 years, Jack Lawing; son Keith Lawing and wife Cathy; grandchildren, John Gholson, Robert Lawing, Virginia Childs and husband Phillip; step grandchildren, Dustin Ballinger and wife Amanda and Brittany Wilcox; step great grandchildren, Emily Ballinger and Haley Ballinger; nephews, Leo Watkins and wife Carole and Danny Watkins; niece, Susan Watkins.
A visitation will be from 6pm to 9pm on Friday, November 4, 2016 at Crowder Funeral Home. Service will begin at 10am Saturday, November 5, 2016 in the chapel of Crowder Funeral Home in Pearland, followed by entombment at Forest Park East in Webster, TX.