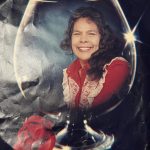 Eva Sanchez Thach was born in Granado, Texas on January 7, 1931, to Jobo Sanchez and Antonia Sierra Sanchez, she passed away on June 30, 2023, surrounded by family in League City, Texas. She spent most of her childhood in Rockport, Texas, eventually moving to Clear Lake Shores, Texas, where she has resided for over 60 years. Eva absolutely loved the island and often rode around on her golf cart enjoying the scenery, visiting neighbors, and enjoying the small community environment until her Alzheimer's diagnosis. She loved to go dancing, listening to old country music and garden/yardwork. She took pride in growing her own vegetables and making home-cooked meals for her family. Eva was a big Elvis Presley fan, and her favorite holiday was Christmas, she would walk around singing Christmas carols during the holidays. She was a member of the Civic Club and the Lions Club. She has lived the past two years with her niece Mary Jane Miller in League City, Texas. Eva helped raise her nieces Mary Jane Miller and Mary Ann Salinas and maintained a close bond with their families.
Eva was preceded in death by her son Thomas Saenz, her mother Antonia Sanchez, her husband Louis J. Thach and all her siblings: Victoria Garcia, Pauline Garcia, Francis Rodriguez, Elenora Longoria, Tulis Sanchez, Joe Sanchez, Paul Sanchez, Adam Sanchez, Johnny Sanchez, Lupe Garcia and Tony Garcia.
Eva is survived by her niece who was raised as a sister, Hope Bailey, niece Mary Jane Miller & family, niece Mary Ann Salinas, great-niece Amanda Arredondo & family and many more nieces and nephews and great nieces and nephews.
The Family will receive friends on Friday, July 7, 2023 at 10:00am with a Celebration of Life Ceremony at 11:00 am at Crowder Funeral Home, 1645 East Main, League City, Texas 77573. Interment will follow at Forest Park East Park Cemetery.