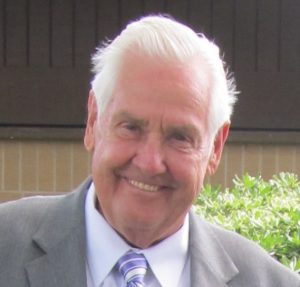 Eugene Paul Nevins, 81, passed away on March 19, 2018 in Houston, TX. He was born on October 13, 1936 in Chicago, Illinois to the late Christopher Nevins and Mary Nevins (nee Cripps).  Gene is survived by his wife of 55 years, Mary Melody, sister Sally Farrell, his daughter Judge Colleen (Michael) Mancuso of Saylorsburg, PA, his son Robert (Jennifer) Nevins of Crestwood, KY, and his son Dr. Stephen (Jennifer) Nevins of Clear Lake City, TX.  Gene was very proud of his nine grandchildren:  McKenzie Nevins, Andrew Nevins, Julia Mancuso, Mary Kate Nevins, Emilia Mancuso, Anthony Mancuso, Mitchell Nevins, Shelby Nevins and Charlotte Nevins.
A spirit of adventure certainly described Gene as he was not afraid to take on a challenge. After high school he served in both the Marine Corp Reserves and the Army.  Using his Army MP training he joined the Chicago Police Department where he served until moving his family to northern Wisconsin. While there, he loved to coach high school football and baseball, and attended every sporting and school event his kids were in.  After moving to South Bend, IN., he worked for more than 27 years at St. Mary's College in the Security Department.  While in South Bend he earned his college degree at 54 years of age and even made the trek to base camp at Mt. Everest at 66.
Gene had a passion for family, travel, mountain climbing, fishing trips, old country music, and especially traveling to the western part of the United States. Gene never stopped thinking about travel; he was in the midst of planning a fishing trip to Canada for this summer with his sons and grandsons.
Service, including a Rosary and Mass, will be held on April 6, 2018 at 10:00 am at St. Bernadette Catholic Church, 15500 El Camino Real, Houston, TX 77062 immediately followed by burial at Forest Park East Cemetery 21620 Gulf Freeway, Webster, TX 77598. Following the burial, a lunch will be served at St Bernadette Catholic Church.
In leiu of flowers, those wishing to make a memorial donation in Gene's memory may do so to the American Heart Association.