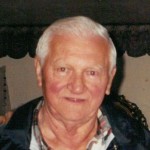 Eugene Alfred Kadlecek, 85 of La Marque passed away, September 7, 2014 in Friendswood, Texas. He was born June 27, 1929 to Louis and Millie Kadlecek in Plum, Texas. Eugene was a Boilermaker and retired from Teledyne Pipe in Galveston. He enjoyed music.
He is preceded in death by his parents, son Dennis Kadlecek and his two brothers.
He is survived by his two daughters Janet Dowdy Petrash (Frank) and Denise Galza (Jason); four grandchildren Brian Dowdy, Chris Dowdy, Christi Pernice and Allesio Olivieri and four great grandchildren Andrew Dowdy, Madison Dowdy, Kylah Dowdy and Giada Pernice.
A Celebration of Eugene's Life will be on Saturday, September 20, 2014 at 1:00pm at 2902 Houston Drive North in La Marque, Texas.