Eugene and Patricia Nitsch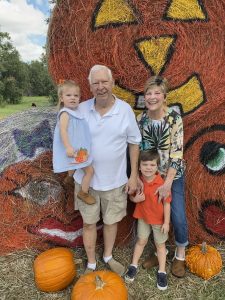 Our beloved parents, Eugene and Patricia Nitsch passed away after 53 years of marriage in Friendswood, TX. Gene, 81, passed away in early June and Patti, 78, followed him in death only a few months later in October.
Gene was born in 1941 to parents Wilhelm and Ida, and Patti was born in 1944 to parents Robert and Rita. As children they could not have had two more opposite up-bringings.  Gene was raised in the country, now the Klein area, with both immediate family and extended family very close by.  He and his 3 brothers: Milton, James, and Charles were always into mischief, and his love of tinkering and fixing cars was fostered by his dad and Uncle Otto.  Patti on the other hand was raised traveling the country from the northeast to the midwest- attending 8 different schools before 8th grade. She and her siblings: June, Gail, and Robert learned to make friends fast and pack light.
Gene followed in his older brother's footsteps attending Texas A&M University while Patti was the first in her family to attend college. Gene graduated with a degree in mechanical engineering and Patti graduated from Southern Connecticut University with a degree in education. Upon graduating, Gene immediately went to work for NASA where he worked for 25 years while Patti taught for one day before deciding to continue on as a model and hairdresser.
When they met in 1968, Gene was working as an engineer on the Apollo missions, and Patti was working as a Delta flight attendant. They had a whirlwind romance and a few months later they married. No one expected it to last, not even the pastor who married them, but they were nothing if not stubborn and lived to prove everyone wrong!
They loved raising their children Jon-Paul and Paige in Friendswood where they were long time residents. Their home was rarely absent kids running out to the woods and back in again. Patti mothered everyone while Gene was the quiet observer. They loved being parents, but far and away their greatest joy was their grandkids.
Gene and Patti shared a love for traveling, food, beer, bridge, family, friends, helping others, a good party and a good fight.  They were known to host some of the best dinners, parties, or even weddings like Blake and Paige's. If you attended one, you likely witnessed a bickering match – it was their love language and one of the things Patti missed the most after Gene passed. They kept each other sharp, honest, and served each other well.
We are incredibly grateful for the time God allowed us to have with them, and are confident they are enjoying a beer together in heaven with a multitude of family and friends that preceded them. A celebration of life will be held on Nov 12th at 11am at their family home.  In lieu of flowers, donations may be made to MD Anderson Cancer Center: https://secure3.convio.net/mdacc/site/TR/DIY/General?px=1473623&pg=personal&fr_id=1543