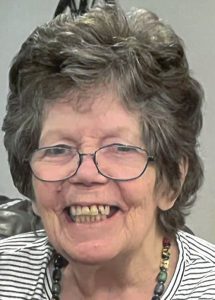 Ethyl Jewel Schmidt, 78, of Texas City, passed away on Tuesday, April 19, 2022 in La Marque. She was born October 9, 1943 to John and Iola McCabe in Greenville, South Carolina.
Ethyl was a long time resident of Texas City and La Marque. She also lived in Katy and Plano Texas and Lake Tahoe with the love of her life Don Schmidt who preceded her in death.
Ethyl was a loving mother, grandmother, sister and friend to many. She was well known for her love of painting, chocolate, animals, gardening, shopping, and the occasional dumpster diving. Her family and friends will never forget her kind heart, big smile and most of all her vibrant and sassy attitude which brought laughter to many.
A Memorial Service will be at 4:00pm on Saturday, April 23, 2022 at Crowder Funeral Home, La Marque with Father Bob Moore officiating.