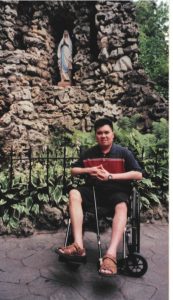 Eric Anthony Concepcion, age 47, passed away on Monday August 6, 2018 in Webster, TX. Eric was born on May 20, 1971 in Chicago, IL to Anthony and Vicenta Concepcion. He graduated from Clear Lake High School in 1989. Then he completed with a degree of Associate of Applied Science in Restaurant Management in 1994 from San Jacinto College Central.
Eric was a fun loving social guy. Often the "comedian" among social gatherings, Eric loved to make people laugh. His unique personality made him stand out among his peers. At a young age, Eric learned to play the piano taking lessons. He'd often play all the pop ballads and even had some stints playing in bands playing the keyboard. He had a love for music and enjoyed going to live shows. As a young child, Eric loved playing sports especially baseball. As he got older, weight lifting became his favorite and he loved hanging out in gyms. If you knew Eric, you'd know his favorite passion was cooking. He loved to cook tasty meals for his family and friends. He would watch many cooking shows for his inspirations. It was also common for Eric to go out to eat at restaurants and introduce himself to the cooks and chefs. He loved to be around anything that had to do with food and cooking.
At the age of 20, Eric was diagnosed with Multiple Sclerosis. He fought a long and courageous fight against MS for 27 years.
He is survived by his loving parents, his only sister and her spouse Kelly and David Dahlen, and niece Kayla.
A visitation will be held on Monday August 13, 2018 from 6:00-8:00pm at Crowder Funeral Home 111 W. Medical Center Blvd Webster, TX 77598.
A prayer Vigil will start at 7:00pm with Deacon Bob Rumford of St. Bernadette Catholic Church.
A funeral Mass will be held on Tuesday August 14, 2018 at 10:30am at St. Bernadette Catholic Church 15500 El Camino Real Houston, TX 77062, officiated by Fr. Bob Barras. Reception to follow after Mass in the church's Parish Life Center.