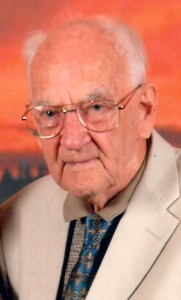 Elzie Floyd Jernigan, 95, passed away December 21, 2015 in Pearland, TX. Mr. Floyd was born in Sand Springs, OK on August 14, 1920.
He served our country in the Army from 1944-1946 in the Philippine Islands. Mr. Jernigan worked as a petroleum engineer both in the United States and abroad.
He was instrumental in the patented design of a pressure relief valve, used in the oilfield for managing mud flows. The design was later sold to Martin Decker.
He lived in Pearland for 12 years and attended Church of Christ.
He is preceded in death by his parents, Walter and Ruth Jernigan; sisters Maxine Winder and Vivian Chapman.
Mr. Jernigan is survived by his wife of 67 years, Mary Jernigan; son, David Martin Jernigan and his wife Christine; grandchildren: Kelly Jernigan, Thomas Jernigan, Danielle Jernigan, Jack Jernigan, Caroline Jernigan.
There will be a funeral service held on December 28, 2015 at 2:00 pm in the chapel of Crowder Funeral Home, 2422 Broadway Pearland, TX 77581.
In lieu of flowers, please make memorial contributions to Wounded Warriors Project.