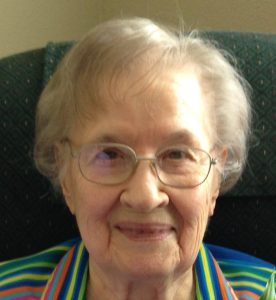 Elva Ruth Fisher Zammit, 96, passed away peacefully in Pearland, TX.  She was born Jan 25, 1923 in Iota, LA, the firstborn of six children of Samuel Fisher and Marguerite Vining Fisher.
After growing up on the family's rice farm in Fenton, LA, Elva attended Louisiana College in Alexandria, LA where she graduated in 1943 with a degree in Home Economics.  It was there that she met her husband, Edgar Matthew Zammit of Baton Rouge.  They were introduced by a mutual friend when Ed enlisted in the Army Air Corps and was stationed in Alexandria.  After graduation, Elva taught Home Economics in Lacasine, LA (1943-44) and Acadia Baptist Academy in Eunice (1944-45) before taking a position as a laboratory technician for City Services (Citgo) in Lake Charles.  After serving in England and France during WWII, Ed returned home in October 1945, and they were married at the family farm in Fenton on Nov. 23, 1945. Elva and Ed resided in Baton Rouge from 1945 until 2007, when they moved to Trinity Oaks in Pearland, TX to be near their oldest daughter.  They enjoyed 67 happy years together before Ed's death in 2013.
Elva's greatest passion was her family, and she spent most of her time providing for them and nurturing them.  She was active in our schooling (PTA President), band, piano lessons, art lessons, scouts and many other activities. She relished spending time with her children, grandchildren and great-grandchildren, and to the end, her face would light up when she would get visits from any of them.  She spent countless hours cooking wonderful meals, and those that knew her probably have fond memories of her delicious food and the good times we all had sitting around her table.  She could modify a pattern and sew a tailored outfit overnight, spent many hours drilling us on spelling words or editing our term papers, and, after Ed retired, she learned how to ballroom dance to big band music so they could enjoy that together.
Elva is survived by her sister, Minna Fisher Lucas; her daughters, Patrice Zammit Belcher of Pearland, TX and Lisa Zammit of Savannah, GA; her sons, Ronald and Kent Zammit of Arroyo Grande, CA; eight grandchildren and nine great-grandchildren.
Services will be held Thursday, October 10, 2019  at 12pm with an 11am visitation in Pearland, TX, before her final journey for burial in Resthaven Gardens of Memory in Baton Rouge on Friday, October 11, 2019 at 1pm. Donations in memory of Elva may be made to the Alzheimer's Association or the American Cancer Society.  We all miss you and love you, Elva/Mom/Mawmaw/Grandma/2-Maw.