Ellen "Marie" Walker Pittman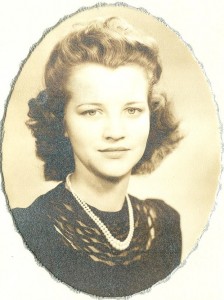 Ellen Marie Walker Pittman peacefully passed away Monday, March 14 in Cuero, Texas.  Marie was one of ten children born to Walter and Opal Loretta (Schwab) Walker in Jamaica, Iowa on May 14, 1927. Being raised on a dairy farm Marie learned how to work by getting up at 4 am to milk cows before going to school. She carried this understanding of hard work and the importance of honesty into everything that she did throughout her life. These strong ethics even brought her husband, Les, into her world when, after waiting on him in a diner, she returned his wallet which he had "accidentally" left at her table. Marie and Les owned and operated Eve's Smart Shop, the oldest woman's clothing store on the mainland of Galveston County, for 30 years. Marie spent a great deal of time, donating heavily to support education and pushing all those around her to become the best and strongest that they could be. Her hard working ideals will always be a guiding light for those who have known her.  Marie was preceded in death by her husband, Leslie Stephens Pittman.  She will be missed by her loving family which includes her two daughters, Kathy and Lynne and many grandchildren, nieces and nephews.
Viewing will be from 5 to 7pm Thursday, March 17th at the Crowder Funeral Home in Webster, Texas. Funeral services will be 11 am on Friday, March 18 at the funeral home.  Burial will follow at Mount Olivet Catholic Cemetery, Dickinson, Texas.