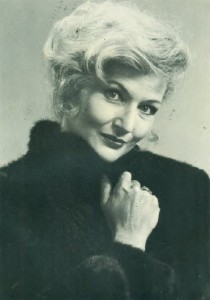 TEXAS CITY — Elizabeth Ann 'Beth' Cromack, née Murphy, born November 11, 1949 in Liverpool, England, U.K., entered eternal rest February 18, 2015, in Texas City.
Born to George Thomas Murphy and Chrissie Colpitts Murphy, of Liverpool and Falls Village, Connecticut, Elizabeth was a dancer, model, and actress in her youth, attending The Royal Ballet School in London on scholarship. Trained in classical ballet, she traveled the world as a performing member of The Royal Ballet Company before meeting her future husband, Richard Francis 'Dick' Cromack of Unionville, Connecticut, while visiting the U.S. in 1969. Instantly smitten, Dick absconded with her Passport and return flight ticket, leaving Beth little choice but to entertain his courtship of her if she ever wanted to return home. Beth did see her beloved England again — but as a visitor only, because after an eighteen-month storybook romance, they were married in Farmington, Connecticut, and soon after welcomed their only child, Richard Francis 'Rick' Cromack, Jr.
Beth served her community faithfully throughout her life. As a member of The Imperial Society of Teachers of Dancing, she inspired future generations of performers. She was an officer in the Lions' and Women's Clubs and the Parent-Teacher Association of Burlington, Connecticut, where she, Dick, and Rick lived for many years; later in life, she was a prominent member of several Alcoholics Anonymous support groups in Galveston County, Texas. Her final duties were as President of the Residents' Association of Gulf Health Care Center in Texas City, where she lived since 2012. Athletic for many years, she and Dick were avid golfers; and Beth assisted him in coaching the Burlington, Connecticut Little League Mets to a State Championship in 1981. Beth, Dick, and her father-in-law, Arthur Richard 'Hitch' Cromack of Unionville, Connecticut were also notorious scourges of cribbage tourneys throughout Southern New England in the 1970s and '80s. Beth was a fierce Yankees fan, and Dick being a lifelong member of Red Sox Nation, this tempestuous baseball rivalry played out between them in exasperated sighs, cutting remarks, and untold eye-rolling for many, many years, greatly entertaining all who knew them.
Beth, Dick, Rick, and Hitch arrived in Texas in 1986, and she pursued a broad variety of careers over the next quarter-century in the Greater Houston area. Among other occupations, Beth modeled for Continental Images; was a talent agent for Faces, International; an account executive for Transwestern Publishing; a sales associate for Baubles & Beads of Texas City; and office manager and public notary for La Porte First Corp.
Caring for her beloved husband, Dick, throughout an extended period of paralysis, illness, and suffering beginning in late 1994, was Beth's full-time focus late in life, and she devoted herself entirely to his needs and comfort until his death in February 2008. Throughout their declining years, Beth and Dick's faith was renewed and made strong, and they were both members and frequent worshipers at Queen of Angels Church of Dickinson. Possessed of a true servant's heart, Beth volunteered in a variety of roles at Queen of Angels, ranging from secretarial to custodial, for as long as she was physically able.
Throughout her life, Beth was a lover of and advocate for animals, with a legendary affinity and empathy for them. Her greatest worldly love, however, was for family, particularly her mother, husband, son, and grandchildren. Fiercely devoted, the sacrificial manner in which she gave of herself to family and friends, in all times and circumstances, was no less legendary. In particular, her total commitment to Dick through their 37 years of marriage inspired everyone who knew them. Through many terrible trials, they faced joys, adversities, and sorrows as one, armed only with their faith and the adoring, patient, longsuffering love they had in each other. Beth and Dick lived an incredible love story, one that would not be defeated or diminished no matter the obstacles that has now, finally, been perfected and made complete in Christ Jesus, Our Lord and Savior. Theirs was truly a love for the ages, and their family is eternally grateful for the beautiful example they set.
Public viewing will be held Wednesday, February 25, 2015, beginning at 5:30 in the evening at the Crowder Funeral Home in La Marque. Funeral services will be performed at 11:00 A.M. Thursday, February 26, 2015 at Queen of Angels Church of Dickinson, followed by a graveside ceremony at Mount Olivet Catholic Cemetery of Dickinson.
Pallbearers are Rick Cromack of Allen, Steve Dennis of Austin, Timothy Fite of The Woodlands, Bill Kasemervisz, Ross Lillie of Sugar Land, and Lance Williams of Houston.
Beth, predeceased by her parents and husband, is survived by her son Rick, her granddaughter Rebecca Linn Cromack, and her grandson Kyle Richard Cromack, of Allen; and by her brothers, Christopher and David, of Southampton and Liverpool, England, U.K. In lieu of flowers, contributions may be made in Beth's name to Queen of Angels Church, 4100 Hwy. 3, Dickinson, TX 77539; to the Residents' Activity & Entertainment Fund of Gulf Health Care Center, 1720 N. Logan St., Texas City, TX 77590; and to the Galveston County Animal Resource Center, 3412 Loop 197 N., Texas City, TX.