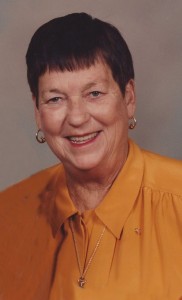 Eleanor Land Spangle, 80, of La Marque, Texas passed away on the morning of Friday, March 27, 2015. She was born in Navarro County, Texas on November 15, 1934 to Altha Mae and Edd Land. Eleanor has been a resident of La Marque since 1958; she worked for the school district as a nurse and was member of the First United Methodist Church. She was a member of the Ladies Elks Auxiliary and a Life Member of the PTA.
Eleanor is preceded in death by her, loving husband; Billy Spangle, son; Richard Spangle; sister; Mary Lou Budai, and brother; Eddie Land. She is survived by her, children; Charlotte Macik and husband Mike, and John Spangle and wife Laurie, sisters; Ivey Jo Weaver and Malinda Rives, grandchildren; Jake Macik and wife Christy, Staci Macik, Braxton Spangle and wife Jessica and Allison Williams and husband Evan, and great-grandchildren; Kamrey, Justin, Alexis, Mason, Henley.
Visitation will be held on Sunday, March 29, 2015 from 5:00pm to 7:00pm at James Crowder Funeral Home in La Marque. A funeral service will be held Monday, March 30, 2015 at 10:00am at the First United Methodist Church in La Marque, with Rev. Chris Norton officiating. Interment will follow at Hayes-Grace Memorial Park in Hitchcock.
Pallbearers will be Mike Brouillard, David Mack, Harold Silberisen, David Six, Mark Weaver and David Weaver. Honorary Pallbearers will be Jack Wilson and Sid Fieber.
The family request that memorials be made to the First United Methodist Church of La Marque.1825 Howell Street, La Marque, Texas 77568.