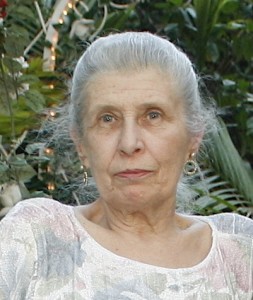 Eleanor Capen Walker, known to family and friends as Ellie, died January 29, 2015, at her home in Dickinson, TX, at the age of 78.
Eleanor Louise Capen was born in East Orange, NJ, to Albert and Wilhelmina Capen on May 6, 1936. She attended West Orange High School and graduated in 1954. She went on to earn a degree in Psychology and Education from Wheaton College, where she joined Kappa Chapter Phi Beta Kappa. She participated in a new Harvard Graduate School of Education internship program that included classroom teaching, and had her crossing paths with the creators of Sesame Street. After earning her Masters of Education degree in 1959, Ellie taught upper elementary school in Quincy, MA. On August 27, 1960, she married Rufus Floyd Walker, Jr. Rufus and Ellie welcomed daughter Cynthia in 1965. The family moved to Shreveport, LA, where Ellie supported Rufus' Centenary College faculty position by joining, and eventually leading, the Centenary Dames Club, and later the LSU Medical Faculty Wives Club. She also enjoyed working in school PTA, music enrichment, and the Captain Shreve High School Band Boosters. At church, she taught Sunday School and Vacation Bible School, and worked with the Council of Ministries. Ellie led her daughter's Girl Scout troop for eight years, and also served as a trainer, as a camp properties team member, and as President of Girl Scouts Pelican Council. She joined the Aggie Moms while her daughter was at Texas A&M University, and enlisted a friend to help create a spectacular original Aggie quilt for a graduation present. After working as a Security Plan insurance agent from 1988 to 1998, and becoming a grandma, Ellie moved to Texas to "dog sit, baby sit, and start a different chapter." In Dickinson, she found a home close to family, and among friends that became family.
Ellie most loved being a wife, mom, grandma, and teacher. She enjoyed travel, and was quite the sports fan. In her younger years, she could pull together dinner for company in no time, and loved to entertain friends and family. In later years, Chronic Obstructive Pulmonary Disease (COPD) slowed her down. She persisted through the good times and bad, and leaves a legacy of never giving up. "Rest if you must, but don't you quit!"
Ellie is preceded in death by her parents and her beloved husband Rufus. She is survived by her daughter Cindy Lamb and son-in-law Brian Lamb of Houston, TX; grandson David Allen Nibert and granddaughter Linda Louise Nibert, both of Houston, TX; and sister Marian Miller of Livingston, NJ.
Visitation will be held at Crowder Funeral Home in Dickinson on Friday, February 6 at 4:00 – 7:00 p.m. Memorial service will be held at Crowder Funeral Home on Saturday, February 7 at 10:00 a.m. Interment will follow with a graveside service at 12:00 p.m. on Monday, February 9, at Forest Park Cemetery in Shreveport, LA.
In lieu of flowers, memorial donations may be made to the American Lung Association at www.lung.org, or to a charity of one's choosing in her name.
The family wishes to extend their gratitude to Dr. David C. Nickeson and the A*Med Community Hospice Team for their support in her final days.