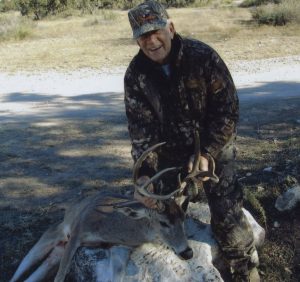 Elbert Louis (Al) Sladek, 89, longtime resident of Galveston County, passed away September 9, 2016. He was born January 28, 1927 in Los Angeles, TX to parents Louis & Tillie Sladek.
He served the US Army during World War II. He was an avid hunter, outdoorsman, craftsman & gardener.
Al was preceded in death by his loving wife, Faith Sladek.
He is survived by his son, Glenn Sladek & wife, Rachel, of Michigan; daughter Leslie O'Neill & husband, Bill, of Florida; step-daughter, Audrey Mabie of California; step-son, David Mabie & wife, Marianne, of California; brother, James Sladek of Texas; 2 nieces; 2 nephews; 2 great nephews; and 13 grandchildren.
A memorial service will be held on September 17, 2016 @ 2pm, Crowder Funeral Home in Dickinson, TX.
In lieu of flowers, please make a donation to a charitable organization of your choice in Al Sladek's name.