Edythe Elizabeth (Beth) Bowen Smith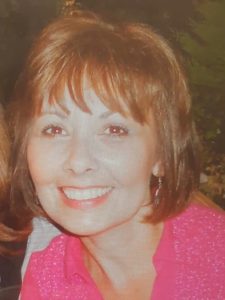 Edythe Elizabeth (Beth) Bowen Smith, 65, passed away peacefully surrounded by her family on April 30, 2023.  Beth was born June 11, 1957, to Jack and Lucille Bowen in Aurora, Colorado.  She was the fourth of five siblings.  Beth moved with her family to Texas in 1957.  She graduated from Leander High School and played first chair flutist in the high school band.  Her favorite summers were spent in Carthage, Texas, with her grandparents.  Her Nana, Mrs. Opal Porter taught her to sew, and this would become a lifelong passion.  There were no projects she wouldn't take on from costumes for school plays to draperies or a wedding dress.  The past few years Beth loved quilting and especially making quilts for her grandchildren.
Beth married the love of her life Douglas Charles (Doug) Smith on July 11, 1987.  She met Doug where she was employed at Samedan as a Land Tech.  They continued their journey with their 4 sons living in Texas, Colorado, and Israel.  During their years in Israel, she enjoyed exploring the Holy Lands and studying the Gospel.  Beth was a wonderful host to family and friends to provide the opportunity for others to experience visiting the Holy Lands, as well. She did not miss the opportunity to spread the word of God to anyone who entered her life. Beth also began to learn Hebrew and loved traveling to different countries with her family.
Beth is survived by her husband Doug of Houston, Texas.  Children Judd (Eleanor) Taylor of Thornton Colorado, Wes (Kate) Smith of Seco, Maine, Kyle (Toni) Smith of Henderson, Nevada and Alex (Katy) Smith of Superior, Colorado.  Her beloved grandchildren Arthur, Joey, Emily, Jack, Zoey, Miles and Henry.  As well as numerous nephews, nieces, great nephews and nieces and a great great nephew.  Siblings Ron (Linda) Bowen of Houston, Texas and Rebecca Bowen of Kerrville, Texas.  Aunt Jean Porter of Carthage, Texas and Uncle Homer (Pat) Porter of Carthage, Texas.
Beth was preceded in death by her parents Jack and Lucille (Porter) Bowen, brother Jack Edgar Bowen and sister Deborah Jean (Bowen) Bradshaw.
The family deeply appreciates the wonderful caregivers who provided tender care and compassion during the final journey of her life.  We will be eternally grateful.
PALLBEARERS
Judd Taylor
Wes Smith
Kyle Smith
Alex Smith
Chris Bowen
Andrew Sinclair
Graveside services will be held at the Clayton Cemetery in Clayton, Texas on Wednesday, May 3, 2023 at 11:00 am.
Memorial donations in memory of Beth can be made to:
Team Gleason ALS Foundation
P.O. Box 24493
New Orleans, LA 70184
Discovery Fellowship Church
6630 Brittany Drive
Fort Collins, Colorado 80525