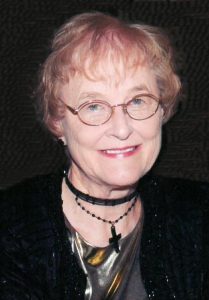 Edna Ruth Wells, 88, of La Marque passed away Wednesday, January 4, 2017 in Webster, Texas.  She was born on January 2, 1929 in Ackerman, Mississippi to Thomas and Lou Glasgow.   She was a 1952 Graduate of Mississippi State University, where she met her best friend, and love of her life, Haven Wells.  The two were married for 66 years.
Edna Ruth was a resident of La Marque and a member of First United Methodist Church since 1957.  She was also a member of the United Methodist Women.
She taught school in Mississippi and Texas and retired from La Marque ISD after teaching a total of 34 years. She was a member of Delta Kappa Gamma Teacher's Sorority.  Her lifelong devotion was to her family and students. She loved to cook, and enjoyed bringing the family together for delicious, home-cooked meals.  Edna Ruth had a great sense of adventure. After their retirement, she and Haven traveled the world and enjoyed many wonderful experiences together.  Hers is a true example of a life well lived.  
She is preceded in death by her parents, two brothers, Thomas Glasgow and David Glasgow, and two sisters, Sarah Simpson and Winifred Barrett.
Edna is survived by her husband of 66 years, Haven L. Wells of La Marque; two daughters Patricia Wells Stewart of Galveston and Susan Wells Cahill of Galveston; four grandchildren Cecilia Stewart, Tristan Wells Cahill and wife Sara Cahill,  Jillian Wells Cahill Purewal and husband Amar Purewal, Ian Wells Cahill, and two great grandchildren Kendall Chandler and Daya Purewal.
A visitation will be on Monday, January 9, 2017 from 5:00pm – 7:00pm at the James Crowder Funeral Home in La Marque.  A Funeral Service will be at 11:00am on Tuesday, January 10, 2017 at First United Methodist Church in La Marque with Rev. Barbara Fyffe officiating.  Burial will follow at Galveston Memorial Park Cemetery in Hitchcock, Texas.