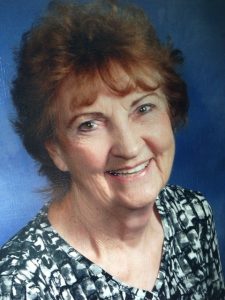 Our loving mother, Edna Frances Milutin, 87, of Dickinson, Texas, passed away November 14, 2022.  She was born to the late Walter A. Lind, Sr. and the late Georgia Wannage Lind, on September 26, 1935, in Galveston, Texas.
Edna was raised in Port Bolivar.  She was a graduate of Ball High School and a member of First Lutheran Church.  The eldest of 10 children, she was very proud that her parents made certain that all ten children were confirmed in the church.  While attending Ball High, she worked at American National Insurance Company.  Because of her love of adventure, she would spend many of her lunch breaks riding the roller coaster at East Beach.  While working at American National, she met John Milutin, Jr., who she would eventually marry.  Together they raised three daughters and though they divorced, they remained close friends until his passing in 2000.  Edna had a great work ethic and spent most of her years at U.S. Customs Service, retiring after 35 years as a U.S. Customs Inspector.  After retiring she began taking art lessons and created many beautiful paintings.  She also loved to travel and enjoyed many years of travelling with her loving companion of 25 years, Louis Magnani, of Galveston.
Edna loved spending time with her family, gardening, sewing, cooking and she was an excellent cake decorator.  She had a gift for hospitality, making everyone she encountered feel loved, welcomed and wanted.  She always had a cup of coffee and dessert ready to offer guests. No matter how busy she was, she always made time for others.  She loved to laugh and LOVED children.  Every time she encountered a little one, she would light up!  It brought her so much joy! Edna was a loving mother, grandmother, great-grandmother, daughter, sister, aunt and friend.  She had a servant's heart and went above and beyond to help others.  She lavished love on her family who will forever adore her.
Edna is survived by her three daughters, Pam Newberry, Linda Spencer (Curtis), Brenda Kenworthy (Charles); grandchildren, Kristin (Ray), Robert, Jenni (Tyler), Johnnie (Kay-Cee), Kristen, Kyle, Joshua (Kacie) and Nicolas; seven great-grandchildren; sisters Lois Parker, Grace Nolen, Linda Kurtas (Lee); brothers George Lind (Rita) and Alan Lind; brothers-in-law Bob Deem and Jimmy Herod; and numerous beloved nieces and nephews.  She was preceded in death by her parents, sisters Jenny Hurley, Jean Deem and Alma Herod; brother Walter (Mac) Lind, Jr. and wife, Jennie; brothers-in-law Bill Parker and Larry Nolen; son-in-law Roy Newberry, Sr. and great-grandson, Gunner Pride.  We would also like to acknowledge her loving caregiver, Anniea Hassan, who brought joy and enriched her quality of life in her final years.
Visitation will be held Thursday, November 17, 2022, at 10 am at Faith Lutheran Church, 800 FM 517 Road East, Dickinson, Texas, followed by a Celebration of Life at 11 am. A procession will follow to Hayes Grace Memorial Park Cemetery, 10708 Highway 6, Santa Fe, Texas.  Flowers are welcome or donations may be made to Starfish Kenya or Faith Lutheran Church.
Honored to serve as pallbearers are Charles Kenworthy, John Pride, Joshua Kenworthy, Nicolas Spencer, Lee Kurtas and Jimmy Herod. Honorary pallbearers are Curtis Spencer, Kyle Spencer and Robert Handy.