Edith Anna Elfriede Fürst Johnson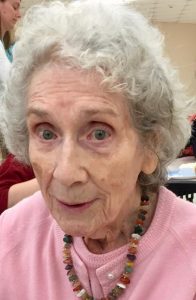 Edith Anna Elfriede Fürst Johnson (94) died on June 11, 2019 after a long illness. She was born April 29, 1925, in Berlin, Germany. At the end of World War II, she met the love of her life, Billy Gene Johnson. In 1947 they were married in Dallas and made their life-long home together in the Houston area. She was a very special woman with so much history in her 94 years. She lived in Germany during WWII, emigrated to America with Billy Gene in 1947, as a War Bride, made a life living the American dream in Texas, and helped to make so many amazing memories for all of us. She will never be forgotten. She even wrote an unpublished book titled "No Anneliese" about her life experiences that is a wonder to read.
Grannie, as her grandchildren and great-grandchildren lovingly called her, loved her family and she loved life. Her favorite times were when her family came to visit. Bill and Edith loved being surrounded by all their children, grandchildren and great-grandchildren during the holidays in their home. She loved all of us so very much and her memories and our love for her will live on in our hearts forever.
She was preceded in death by her loving husband Billy Gene Johnson, her father Paul Simson Fürst, her mother Käthe Ida Anna Schaeffer Fürst and brothers Günter Adolf Erich Fürst and Jürgen Kurt Fritz Fürst, as well as her niece Brigitte Silvia Fürst Mangham. Edith is survived by her 3 children: Stephanie Johnson McDaniel and husband Mike, Darlene Johnson Snell and husband Warren and Stephen Johnson and wife Jullie; 7 grandchildren: Dean (Jennifer), Drew, Elliott (Sarah), Thomas (Heather), Evan (Michelle), Ethan (Elizabeth), Emily (Cody) and 15 great-grandchildren: Lilly, Honalei, Sterling, Isaiah, Caleb, Dalton, Blakely, Theodore, Dominic, Ryder, Owen, Carson, Amelia, Brendan and Meredith. Edith also leaves loving memories to her nephew Brian Fürst, numerous other family members and friends.