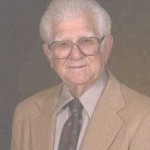 Earl "Red" H. Hooper, Sr., 87, resident of Santa Fe, Texas, passed away on May 10, 2014. He was born in Houston Texas to parents Thomas Edward Hooper, Sr. and Frances Wisnoski Hooper. Earl served in the Merchant Marine during WWII beginning at the age of 15 and advancing to Chief Electrician before being honorably discharged. After WWII he returned to Galveston where he was employed as a Master Electrician. In the later years of his career he was the owner of an electrical business working in the major petrochemical industry. Earl was a founding charter member of Aldersgate United Methodist Church; he served on the Building Committee of the original Church structure.
The Church was the center of Earl's activities as he was a strong supporter of the Church's outreach in addition to having served on numerous boards and committees.
He is preceded in death by his parents, and sisters, Frances Wynn, Dorothy Perthuis, and brother, Thomas E. Hooper, Jr.
He is survived by his wife of 67 years, Wilodyne Copeland Hooper, son, Earl H. Hooper, Jr. and his wife Barbara, daughter, Mary Dyne Hooper-Cox and her husband Phillip; sister, Beatrice Maples; 3 grandchildren, Shaun Hooper (Noelle), Ryan Hooper (Mandy), and Erin Cox; 2 great-grandchildren, Kahlan and Inara Hooper.
The visitation will be from 6 p.m.-8 p.m. Thursday, May 15, 2014 at Aldersgate United Methodist Church. Funeral services will be at 11:00 a.m. Friday, May 16, 2014 at Aldersgate United Methodist Church in Santa Fe, Texas. There will be a private interment at Woodlawn Cemetery, Houston. Shaun Hooper, Ryan Hooper, Tom Harryman, Phillip Cox, Bobbie Wright, Mike Brown will serve as pallbearers. Honorary pallbearers are James Wierzowiecki, George Spiers, Richie Valusek, and Preston Barton.
Memorial Donations may be made to Aldersgate United Methodist Church Memorial Fund.