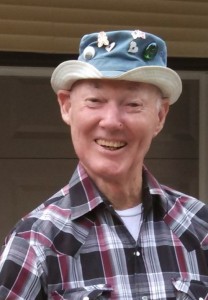 Duncan Danforth Aker, 85, passed away Wednesday, August 19, 2015 in Hitchcock, Texas with special niece and nephew Debbie and Ray Elfstrom by his side. He was born August 18, 1930 in Texas City, Texas to Garvin and Lola Aker.
Duncan was a lifelong resident of Galveston County; as a teenager he worked at the La Marque Theater; he also worked for the Mayflower Moving Company for years going all over the country. He served in the US Army and he was a member of the VFW in Santa Fe. He was a member of Paul's Union Church all his life. Duncan was the owner of Bill's Air Conditioning and Appliance Repair. His hobbies were traveling, taking pictures and organizing yearly Class Reunions. As long as he was able he looked forward to going dancing on Saturday nights at the VFW with his sister Dolores.
Duncan loved to play with his two special playmates great niece Mariah Pickett and great-great niece Samantha Corpuz.
He is preceded in death by his parents Garvin and Lola Aker; his wife MaryAnn Aker and sister Peggy Townsend. He is survived by his son Duncan Aker, Jr. and wife Catie; sister, Dolores Boatman; special niece and nephew Debbie and Ray Elfstrom, grandchild Jaime Aker, caring niece Roseanna Quinlan, great nephews aka "partners in crime" Sean and Tyler Elfstrom; his adopted family Mike, Sue, Twyla and Bailey Johnson; his special friend Gerta Noble and numerous other nieces and nephews.
A special thanks to Libbies Place, Pat Henry, Seasons Personal Care Home, VA Health Care, Alicia and A-Med Hospice during his long struggle with Alzhiemers.
A visitation will be held on Sunday, August 23, 2015 from 3:00pm – 5:00pm at the James Crowder Funeral Home in La Marque. The Funeral Service will follow at 5:00pm with Pastor Doug McBrayer officiating.
In lieu of flowers donations may be made to the Paul's Union Church in La Marque, Texas.