Dr. Donavon Dwayne Claussen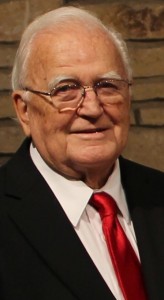 Donavon (Don) Claussen was born on December 3, 1931 in Jasper, Minnesota. He was baptized into the Christian faith and confirmed at Trinity Lutheran Church in Jasper. After graduating from Jasper high school at the age of 16, he attended a 6 week teacher certification course at Concordia College in St Paul and then taught parochial school in Austin, Minnesota for 1 year. He completed pre-dentistry course work at Augustana College in Sioux Falls, South Dakota and then attended the University of Minnesota School of Dentistry where he received his Doctor of Dental Surgery degree in 1956. He was a veteran of the U.S. Air Force where he served as a dentist and attained the rank of Captain. He married Charlotte Eifert in 1954.
He practiced dentistry in Austin, Minnesota for 38 years. Don served as associate editor of the periodical Northwest Dentistry for eight years. He also held several offices including President of the local Dental Association, President of the Southeast District Dental Society and President of the Minnesota Dental Alumni Association. Don was elected to the International College of Dentists and had the privilege of serving as a dental missionary in Honduras on two separate occasions.
He loved music and as a result held many leadership roles in the music community in Austin. He was Chairman of the Board for the Austin Symphony Orchestra, as well as the Austin Artist Series. He sang in the Austin Symphony Chorus for many years, directed the church choir in Austin for 25 years, as well as directed a "pick-up" choir for many years at the annual LCEF Fall Conferences. After moving to League City in 2000, Don sang in the Gloria Dei Choir and enjoyed being part of the Notables.
Don served on the Board of Directors of the Lutheran Church Extension Fund (LCEF) for twelve years and was Chairman of the Board for 4 years. Because of his service as Chairman, he was honored to be a LCEF Silver Eagle.
Don was preceded in death by his parents, his sister Elaine, and his son Jeffrey. He is survived by his wife, Charlotte of League City, TX, and their three sons and their spouses: Stephen and Barbara of Dallas, TX, Bradley and Katy of Friendswood, TX, and Tom and Carol of League City, TX. Don was also very proud of his grandchildren, Elizabeth, Lauren and her husband Raul, Karin, and Samuel. And finally, he is survived by his brother Eugene, and a sister, Doreen.
Don was a devout Christian and his life was a witness to his faith and love of Christ.
A Memorial Service will be held on Saturday May 23, 2015 at 10:00am at Gloria Dei Lutheran Church in Houston, TX.
In lieu of flowers, the family requests donations be made to Lutheran Church Extension Fund (LCEF) or Gloria Dei Lutheran Church music fund.