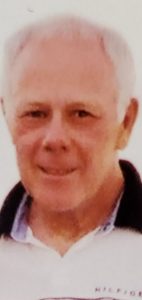 Dr. Donald Fred Wagner, 75, of Dickinson, Texas, passed away on December 10, 2019 in Dickinson. He was born October 5, 1944 in Milwaukee, Wisconsin to Donald and Martha Wagner. He was a loving Husband, Father, and Papa. Donald was Valedictorian at Wabeno High School in Wisconsin. Dr. Wagner was a former Team Physician at Dickinson High School. He was an exceptional athlete, participant in multiple marathons and an avid sports fan. He served as a Doctor in the US Air Force and retired as an orthopedic surgeon with The Orthopedic Clinic of Galveston in Texas City and U.T.M.B. Dr. Wagner also served as Chief of Staff at Mainland Medical Center in Texas City. He was a faithful servant of God and member of Faith Lutheran Church in Dickinson, Texas.
Survivors include his wife, Kathleen; daughter Sarah Chavarri; son Josh Wagner & wife Julie, step-son, Greg Dodson & wife Aleshia; sister, Sally Garamella & husband Frank; brother Joe Wagner; six grandchildren, Jordan Chavarri, Avery Wagner, Joshua Wagner, Chelsi Dodson, Hunter Dodson & Hannah Dodson and three great-grandsons, Anthony, Alec and Benjamin; In addition numerous nieces, nephews and other relatives.
A visitation will be held on Friday, December 13, 2019 at the Crowder Funeral Home in Dickinson, Texas, from 6 to 8 pm and Funeral services will be at the Faith Lutheran Church in Dickinson on Saturday, December 14th at 10:00 a.m. with Pastor Mike Button officiating.  Interment will follow services at Galveston Memorial Park in Hitchcock, Texas.
Serving as pallbearers will be Josh Wagner, Greg Dodson, Pat Kearney, Dub Farris, Mike Magliolo and Corey Magliolo