Douglas (Doug) Taylor Gates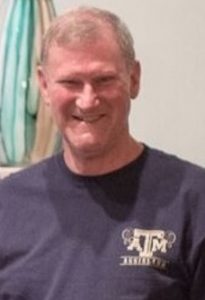 Douglas (Doug) Taylor Gates, 61, passed away on January 30, 2018 in Houston, Texas. He was born on June 23, 1956 in Houston, Texas to Thomas Garland Gates and Florence Taylor Roberts. Doug is survived by his wife, Gwen, daughter, Carolyn, son, Connor, brother, Tom and his wife; Patti, and many family members and friends. He was preceded in death by his parents and his brother, Matt. He was descended from two of the 'Old Three Hundred' (William Gates and Joel Leakey), who were members of the 300 families who came to Texas with Stephen F Austin and received land grants to settle in Washington, County, Texas.
Doug earned BS Degrees in Building Construction (1978) and Civil Engineering (1980) from Texas A&M University and an MBA (1989) from The University of Houston-Clear Lake. He primarily worked as an engineer with several different companies throughout his career but also worked in other fields utilizing both his engineering and business knowledge. Doug had many passions but his primary passion was his faith in Christ which was exhibited by his love for his family and friends and in the manner in which he lived his life.
A Visitation will be held on Thursday, February 8, 2018 from 6:00 PM to 8:00 PM at Crowder Funeral Home, 111 E. Medical Center Blvd., Webster, TX 77598. A Funeral Service will be held on Friday, February 9, 2018 at 2 pm at Clear Lake United Methodist Church, 16335 El Camino Real, Houston, TX 77062. Interment will follow at Mt Olivet Catholic Cemetery, Dickinson, TX. In lieu of flowers, those wishing to make a donation in Doug's memory may do so to Clear Lake United Methodist Church's Building Fund or UMArmy Fund; The Association of Former Students, Texas A&M University, 505 George Bush Dr, College Station, TX, 77840; Bay Area A&M Club, 5406 Genoa Red Bluff Rd, Pasadena, TX, 77505; or your favorite charity.