Dorothy Westerlage Cathcart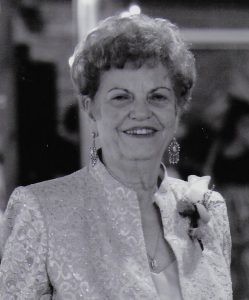 Dorothy Westerlage Cathcart
Beautiful Mother, Grandmother, Great Grandmother and Friend, Dorothy met her heavenly reward on January 24, 2017 surrounded by her family after a courageous battle with pancreatic cancer.
Dorothy was born June 11, 1932 to Collis and Alberta Westerlage in La Marque. She met the love of her life, Robert Cathcart and was married on November 22, 1950 in La Marque where they raised their children, Linda, Vickie and Robert. They enjoyed traveling and their farm in Moulton, Texas, where family received numerous hours of enjoyment.
She was a charter member of First Christian Church of La Marque where she served faithfully in various capacities. Dorothy was very active in Community activities: Texas City/La Marque Chamber of Commerce and Sons of Herman: She was a proud member the Daughters of the American Revolution, the Daughters of the Republic of Texas and the United Daughters of the Confederacy.
Dorothy retired from College of the Mainland in 1993 after 26 years of service.
She is preceded in death by her husband, Robert Cathcart; parents, Collis and Alberta Westerlage; and sister Doris White.
Dorothy is survived by her children, Linda Nickerson (Pat), Vickie Reed (Ronnie) and Robert Cathcart (Teresa). Grieving the loss of "MeeMaw" are Grandchildren are: Kristi Parker (Patrick), John Reed, Patrick Nickerson, (fiancée Tiffany Trahan), Tiffany Phillips (Kendre'), David Cathcart (Stephanie), Elizabeth Cathcart and Nathaniel Cathcart.
She also has sixteen great grandchildren: Eryn Parker, Allen Parker, Micah Parker, Belle Parker, Alexis Nickerson, Ashley Nickerson, Allyson Nickerson, Ciara Trahan, Breanne Nickerson, Hailey Phillips, Kenley Phillips, Trenton Phillips, Landon Phillips, Stephanie Reed, Cyrus Cathcart and Vivian Cathcart.
Visitation will be on Friday, January 27, 2017 from 6:00pm – 8:00pm at Crowder Funeral Home in La Marque. Funeral Service will be at 10:00am on Saturday, January 28, 2017 at First Christian Church 1204 Ross La Marque with Pastor Rex Teter officiating. Burial will follow at Galveston Memorial Park Cemetery in Hitchcock, Texas.
Pallbearers will be David Cathcart, Nathaniel Cathcart, John Reed, Patrick Nickerson, Patrick Parker and Kendre' Phillips. Honorary Pallbearers are Patrick Allen Parker and Micah Parker.
The family would like to thank Esperanza, Brianna, and Katie of A-Med Hospice for loving and compassionate care of our mother.
Family suggest memorials be made to First Christian Church of La Marque.