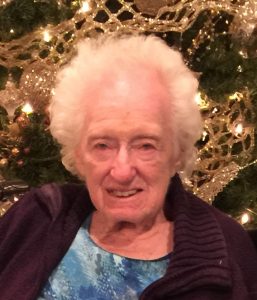 Dorothy Reznicek, 94, of La Marque passed away on Wednesday, April 4, 2018 in Texas City.  She was born in Galveston, TX to Emanuel and Kathleen Endresen.  Dorothy lived in Galveston until she moved to La Marque in 1951.  She was a longtime member of the Queen of Peace Catholic Church and an active member of the Ladies Guild there.
Dorothy is preceded in death by her husband Frank Reznicek and her daughter Robin Reznicek.  She is survived by her son Michael Reznicek and wife Melba; two daughters: Janis Wright and her husband Jimmy, and Sheri Reznicek; nine grandchildren: Michael and Jackie Reznicek, Allen and Mandy Reznicek, Aaron Reznicek, Debra and David Barton, and Scott and Mekesha Wright; and four great grandchildren: Gretchen Sacks, Rebekah Sacks, Jackson Barton and Blake Barton.
A visitation for Dorothy will be held on Sunday, April 8, 2018 from 3:00PM to 6:00PM with a Rosary and Vigil at 5:00PM at James Crowder Funeral Home 401 Texas Ave, La Marque, TX in La Marque.  A Funeral Mass will be held on Monday, April 9, 2018 at 11:00AM at Queen of Peace Catholic Church, 1224 Cedar Dr, La Marque, TX, with Father Paul Chovanec officiating.  Interment will follow at Hayes Grace Memorial Park in Hitchcock, TX.
Memorials in Dorothy's honor may be made to Queen of Peace Catholic Church.