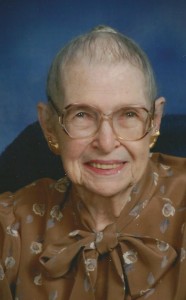 Dorothy Lee Langley was born December 14, 1918, and entered Heaven on January 26, 2015. She is preceded in death by her husband Weldon Langley, son Tom Ed Langley, son-in-law Bob Roubion, parents Tommy and Ollie Wilson, and sister Tommie Sue Crawford. She is survived by daughter Ann Roubion, foster son Tom Turnipseed (Marcia), grandchildren Robert Roubion (Cortney), John Roubion (Joni), David Roubion (Tracy), Carin Adermann (Dean), Dr. Jeff Yonker (Jessica) and Ellyn Turnipseed, 11 great grandchildren: Meredith Roubion, Andrea Garcia (Nick), Bethany Hankamer (Jett), Rebecca Miller, Jake Miller, Aimee Roubion, Courtney Roubion, Wilson Roubion, Ryan Roubion, Weston Roubion and Jace Roubion as well as 2 great-great grandchildren: Demi Garcia and Easton Hankamer. She is also survived by many nieces and nephews and other extended family.
She attended schools in several small towns in East Texas, graduating from high school in Goodrich. She then attended Sam Houston State Teachers College in Huntsville for two years before she and Weldon married on July 26, 1937. During their marriage, she was a faithful and loving wife and mother, serving alongside Weldon in his years as a Pastor and Director of Missions for Galveston Baptist Association. She was also a church organist, church secretary and substitute teacher during their years in League City and Galveston. .After they moved to Beaumont where Weldon was Chaplain at Baptist Hospital, she taught a women's Sunday School class and formed friendships for a lifetime. She also enrolled at Lamar University and graduated with a degree in education. Her teaching career was in the South Park Independent School District of Beaumont where she taught elementary grades, primarily fifth, until an eye problem caused her to retire early. She is loved and held in deep respect by her friends at First Baptist Church, Beaumont, and the children, parents and coworkers she influenced in her years as a teacher as well as by her church family at Nassau Bay Baptist.
Dorothy's greatest love, other than her deep personal relationship with her Savior, was her family. She and Weldon were a unique couple who loved and understood one another and were able to blend their personalities and roles in marriage into a beautiful example of oneness in Christ and with one another. When asked what was the key to a good marriage, she would say, "a sense of humor." Their home was full of love and laughter, support and encouragement to family and friends and a gathering place for many fun-filled family times. They are known as Ama and Papa to the family.
In 1989, Weldon and Dorothy moved to Clear Lake and joined Nassau Bay Baptist Church where they served as teachers and mentors to both the church members and staff. In separate years, they were elected Senior Adult Man and Woman of the Year, an honor bestowed on senior adults at NBBC who exemplify a Christ-like walk and a record of service at NBBC.
Service arrangements are as follows: Visitation Wednesday, January 28, 5:00-7:00 pm at Crowder Funeral Home, 1645 Main Street, League City. Service Thursday, January 29, 10:00 am at Nassau Bay Baptist Church. Burial will follow at 3:00 pm at Oakwood Cemetery, Addickes Addition, in Huntsville TX. In lieu of flowers, memorial gifts may be made to Nassau Bay Baptist Church Building Fund, 18131 Nassau Bay Dr, Houston TX.