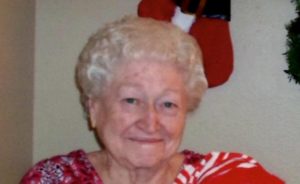 Doris Pire passed away peacefully on May 22, 2020 in Texas City, where she had resided for the last 9 years.
She was born on February 27, 1931 in Sweet Home, Texas to Louis & Mary Raska and graduated from high school in Pasadena, Texas.
On June 16, 1951 she married James Leo Pire in Green Bay, Wisconsin.  She was active in her local community of Ashwaubenon and owned a business (The Yarn Shoppe) in Green Bay.   In her later years after a move to back Texas, she worked in human relations for Foley Department store in Pasadena. She loved doing multiple types of crafts – needlepoint; knitting; crocheting; cross stitch and sewing.  Her greatest love was spending time with family and friends.  She also enjoyed traveling when she had the opportunity to do so.
Doris is survived by her five children, Debra (James) Matthees of Blaine, John (Michelle) Pire of Texas City, Pam Chicarro of Webster, Jane Pire of Houston, and David Pire of Dallas and her special granddaughter- Lori (Brian) Hernandez of Webster.    She also is survived by one sister along with multiple grandchildren and great grandchildren. She was preceded in death by her husband Jim in 1998.
A celebration of life with a private burial will be held at a later date at Sweet Home, Texas.