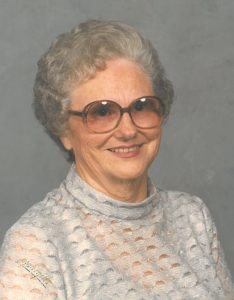 Mrs. Doris Myrl Nash Taylor was born July 14, 1920 in Lovelady, TX and passed away April 2, 2018 in Webster, TX. Mrs. Taylor was formerly of Coolidge, TX and retired from AT&T after thirty-five years of service. She was a past president for the Garden Club in Coolidge, TX; president of the counsel for the residents of Regency Village in Webster, TX; treasurer for the Food Bank at Glad Tidings Church and Secretary for the Senior Citizen Center in Limestone County.
Mrs. Taylor is preceded in death by her husband, Aubie Nash; husband Byron Taylor; daughter, Patsy Carol Sims; step-daughters: Earnestine Smith and Joy Bartay; step-son, Charles Taylor; son-in-laws: Ray Robertson and Mickey Powell; parents: Jones and Augusta Smith; sister, Evelyn Smith.
Doris leaves behind daughters: Delora Robertson and Jackie Powell, and Steve McCree; Niece: Janice Waters; step-daughters: Naomi Ruth Snodgrass and Margie Ann Williams; son, Lynn Nash, wife Debbie Sue; step-son-in-law, Tandy Bartay; sister, Dorothy White, husband Bill. Twelve grandchildren; thirty-three great children; twenty-four great great grandchildren and two great great great grandchildren.
Visitation will be from 5-8 p.m. on Thursday, April 5, 2018 at Crowder Funeral Home in Pearland. Funeral service will begin Friday, April 6, 2018 at 11am in the chapel of Crowder Funeral Home. Followed by a graveside at 3pm at Trevat Cemetery in Trevat, TX.
Honorary pallbearers will be: Anthony Powell, Sean Powell, Donnie Roberson, Ronnie Robertson, Ed Dillard, Max Putnam, Michael Sims, Aubie Nash, Jeffrey Nash and Bradley Bruckner.
Memorial may be made to: Texas EquuSearch