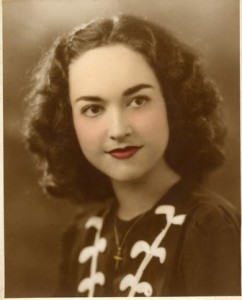 Dora G. Lackey went home to be with our Lord on January 1, 2015. She was a life-long resident of LaMarque, Texas. She was a member of Queen of Peace Catholic Church in La Marque, Texas, and was a member of the Queen of Peace Ladies Guild. Even though she was a busy homemaker raising eight children, she found time to exercise along with the Jack LaLanne Show, travel, and dance. She was also Elvis Presley's #1 fan.
She was preceded in death by her first husband, Martin L. Lackey and after he passed away, she found love a second time and married Sonny Bosworth, who also preceded her in death. Also preceding her in death were her beloved sons, Robert and Chuck Lackey, two grandsons, Steven Jay Florence and Jaysin Lackey and two daughters-in-law, Jeanne Lackey and Vicky Lackey.
She is survived by her daughters, Dana Florence (Monty), Linda Hurlbert (Rick), Sherry Vetter (Jim); sons, Martin Lackey (Brenda), Jerry Lackey (Ilona), and Gary Lackey; ten grandchildren, twenty five great-grandchildren; and three great great-grandchildren.
Visitation will be held from 6 p.m.-8 p.m. with a Rosary at 7 p.m. Sunday, January 4, 2015 at Crowder Funeral Home in Dickinson, Texas. Funeral Mass will be held at 10 a.m. Monday, January 5, 2015 at Queen of Peace Catholic Church in La Marque, Texas. Interment will follow at Mount Olivet Catholic Cemetery in Dickinson, Texas.