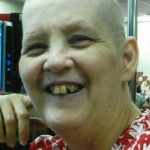 Donna Sue Johnson, 52 of Texas City passed away Wednesday, November 19, 2014 at Mainland Medical Center in Texas City. She was born December 7, 1961 in Liberty, Texas.
Donna was a loving person who touched many hearts with her hugs and kisses.
Donna is preceded in death by her father, George Johnson, Sr. and sister, Ellie Pean.
Donna is survived by her mother, Ruth Creel; son Michael Johnson; sisters Tanya Palmer, Cathy Erber, Charla Strevels, Melinda Smith, and Belinda Hodges; brothers George Johnson, Jr. and Clyde Johnson; her special uncle John Morse, one grandson, Jace Johnson, and numerous aunts, uncles, nieces and nephews.
Donna was a member of St. Mary of the Miraculous Medal Catholic Church in Texas City.
Visitation will be on Friday, November 21, 2014 from 4:00pm – 8:00pm with a Vigil at 7:00pm at the James Crowder Funeral Home in La Marque with Deacon Steve Mistretta. Funeral service will be at 2:00pm on Saturday, November 22, 2014 at the James Crowder Funeral Home in La Marque with Deacon Joe Hensley officiating. Burial will follow at Galveston Memorial Park in Hitchcock, Texas.
Pallbearers will be Jonathan Montrose, Kris Rich, Bradley Singeltary, Clyde Johnson, Jr., Jacob Johnson and Moses Johnson. Honorary pallbearer will be John Morse.
Contributions may be made to Donna Johnson's Memorial Fund at Amoco Federal Credit Union.