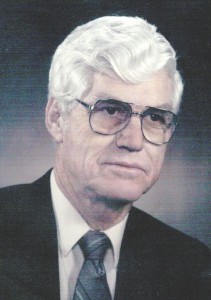 Donald Ray "Don" Robertson, Sr., 86, of Hitchcock, Texas passed away on January 3, 2015 in Webster, Texas. He was born in Tillman County, Oklahoma, in the city of Frederick, on February 10, 1928 to Jennie Mae and John Northfleet Robertson. Don married his loving wife of 63 years, Catherine Marie Alessi, on August 3, 1950. Don and Catherine moved their family to Hitchcock, Texas in 1970; here he became employed by Courtney & Co. for 35 years. He served in the United States Air Force, and was a former member of the Rotary Club of La Marque. Don loved to going hunting and fishing, and enjoyed just having coffee with his many cherished friends. He was a devoted husband, adored father, grandfather and great-grandfather. He was a humorist and a storyteller and he will be dearly missed.
Don is preceded in death by his mother and father, and his loving wife Catherine. He is survived by, his two children; Donald R. Robertson, Jr. and wife Karla of Alvin, Texas and Gale L. Robertson and wife Cindy of Hitchcock, Texas, eight grandchildren; Elizabeth Robertson, Joshua Robertson (Samantha), Aaron Robertson (Leslie), Ashley Airington (Mike), Melissa Preismeyer (Matt), Amanda Orrenmaa (Randy), Kash Robertson (Sara), and Krystal Saldivar (Edward), and thirteen great-grandchildren.
A visitation for Mr. Robertson will be held on Wednesday, January 7, 2015 from 6:00pm to 8:00pm at James Crowder Funeral Home in La Marque, Texas. A graveside service will begin at 11:00am on Thursday, January 8, 2015 at Galveston Memorial Park in Hitchcock, Texas, with Rev. Craig King, Sr. officiating.
Pallbearers will be, Joshua Robertson, Aaron Robertson, Kash Robertson, Eric Wells, Ed Wells, and Wade Arnold. Online condolences to the family can be made at www.crowderfuneralhome.com.