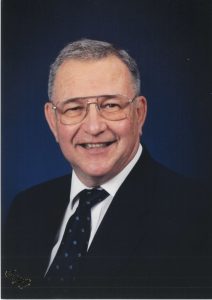 Donald Joseph Albright passed away on Tuesday, July 25, 2023 at the age of 88.
A self-described "poor boy from West Virginia," Don was born on November 14,1934 in Parkersburg, West Virginia, the third of Clement and Lorena Albright's seven children. He graduated from the United States Merchant Marine Academy at Kings Point, NY with an engineering degree in 1957. After completing a brief assignment on active duty with the Navy, Don sailed the globe aboard various ships in the Lykes Brothers Steamship Company's merchant fleet. Don married Katharyn Ehlers in Galveston on November 9, 1963, and after the birth of their first child, he worked as a port engineer for Lykes Brothers in its Galveston maintenance and repair office, until retiring in 1993.
Since 1965, Don resided in Texas City and was a parishioner of Queen of Peace Catholic Church. Over the years, he served as a lector, eucharistic minister and cantor. Following his retirement, Don regularly attended daily mass at Queen of Peace and other neighboring parishes. Don was an active member of the Knights of Columbus and served a term as the Grand Knight. He enjoyed poetry, telling stories and jokes, playing cards and golf with friends, watching professional football and working a daily sudoku puzzle. However, Don's number one priority was always his family, and he never failed, by word or action, to assure them of his love.
Don is preceded in death by his brother Frederick Albright, and his sister Ann Albright. He is survived by his beloved and loving wife of nearly 60 years, Kathy; his brothers: John (Jane) and Robert (Patsy) Albright; his sisters: Mary Joan and Carolyn Albright; his three children: Katharyn (Kevin) Grant, Karen (Jon) Kantenberger, and Greg Albright; his daughter-in-law Shuo Albright; his four grandchildren: Katie Grant, Madeline and Duncan Kantenberger, and Levi Albright; numerous nieces and nephews; and many friends.
Visitation will be from 5:00 pm to 8:00 pm on Tuesday, August 1, 2023, with a rosary and vigil beginning at 7:00 pm, at the James Crowder Funeral Home in La Marque, Texas. A funeral mass will be held at 10:00 am on Wednesday, August 2, 2023 at Queen of Peace Catholic Church in La Marque, with burial to follow at Mount Olivet Catholic Cemetery in Dickinson, Texas.