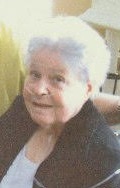 Dolores Mae Drab, 85, a resident of Houston, TX since 1955, passed away November 28, 2022 in Houston, TX. Dolores was born August 7, 1937 in La Grange, TX. She worked for Bute Paint Company for 30 years and then 15 years for Baker Hughes. She was a long-time member of Our Lady of Mount Carmel Catholic Church.
Dolores is preceded in death by her parents, Vincent, and Anna Drab; sister, Margaret; brothers: Isadore Drab, Bernard Drab, and Jim Drab.
As a child growing up in the country her older brothers liked playing tricks on her such as locking her in the out house and rocking it back and forth. When she went to school in the city they kept asking if she needed to go to the restroom. Dolores thought, "I don't need to rest." They finally took her and explained.
Despite not having children of her own, she enjoyed spending time with her siblings, nieces and nephews. She always gave presents at birthdays and Christmas.
Dolores was a crafty person. She sewed, knitted, arranged flowers and crocheted; even full-sized bedspread.
She leaves behind her sister, Patricia Meischen, husband Melvin; sister-in-law's: Helen Drab Stigant, and Marie Drab; brothers: David Drab, wife Angie, and Daniel Drab, wife Jane; and numerous nieces and nephews.
Visitation will be from 5 p.m. to 8 p.m. Thursday, December 1, 2022 with a rosary to begin at 6 p.m. in the Chapel of Crowder Funeral Home in Pearland. Funeral mass will be held at 10 a.m. Friday, December 2, 2022 at St. Helen Catholic Church in Pearland. A graveside will follow at 2 p.m. at the St John Catholic Cemetery in Fayetteville, TX.