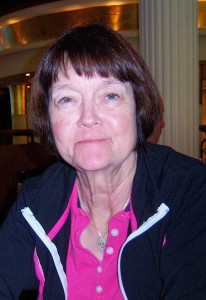 Diana Mae Scroggins, 64, of Dickinson, TX, passed away May 28, 2016.  Diana was born July 9, 1951 to Ruby Jeanette and Wallace Lee Pridgeon in Ft. Worth, TX. She worked for over 20 years with the Texas City Independent School District as a substitute teacher and teacher's aide at Roosevelt-Wilson Elementary School. Diana and William Edward (Bill) Scroggins were married for just over 42 years.  She was preceded in death by her parents.
Diana will be missed, loved and eternally remembered by her loving family; William Edward (Bill) Scroggins, husband; David Lee Pridgeon, brother; William Ryan Scroggins, son; and Ashley Erin Scroggins, daughter-in-law.
A visitation will be held 5:00 to 8:00 pm, Friday, June 3, 2016, at Crowder Funeral Home Chapel, Dickinson, TX with graveside services, 2:00 pm, Saturday, June 4, 2016 at Mt. Olivet Catholic Cemetery, Dickinson, TX.
We will never forget you, Diana, and you will live on in our hearts and souls forever.