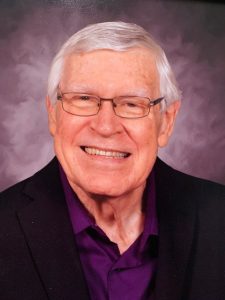 Dennis James Imhoff, 80, a resident of BellaVita in Pearland, TX for the past 21 years, passed away April 26, 2022. Dennis was born on December 23, 1941 in San Antonio, TX. He graduated from Seguin High School, and went to business college and worked in Austin.  Because Dennis loved to travel, he moved to Houston in 1966 to work as an auditor for Texas International Airlines, which later merged with Continental Airlines.  He retired in 2007 from Horn Murdock Cole.
He is preceded in death by his parents, John and Katherine Imhoff; brother, Charles Imhoff.
He leaves behind his wife of 57 years, Gwen; daughter, Amanda Ross, husband Derek Ross; grandchildren: Sunday Ordonez, husband Jose   Ordonez, Honor Ross, Cannon Ross, Ada Ross and Eli Ross; sisters: Lois Tschirgi, Marian Corn, Annabelle Oyler; brother, Johnny Imhoff.
A Celebration of Life will be held on Saturday, May 28, 2022 at noon at Crowder Funeral Home, 2422 East Broadway, Pearland, TX, followed by a reception at BellaVita, 1548 N. Riviera Circle, Pearland, TX.
In lieu of flowers, donations in memory of Dennis, can be made to the Shriners Children's Texas, 815 Market Street, Galveston, TX 77539, calling 409-770-6853, or online lovetotherescue.org.