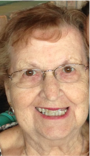 Deloris was born March 3, 1934 and passed away on September 8, 2015.  She was preceded in death by her parents, Lee and Leona Ball, sister Ardis Van Bemmel and nephew Steven Van Bemmel.  She leaves to mourn her husband of 59 years Burdette Dugdale, daughter Shelley Dugdale and son Gregory Dugdale and his wife Pam, grandson Joshua Dugdale and granddaughters Julie Dugdale and Christina Smith and her husband and son Brian and Daymon, brothers Ronald Ball and wife Lynnette, and Daryl Ball and wife Sandy as well as brother-in-law Gordon Dugdale and wife DoRell.   She also leaves several cousins, nieces, nephews and grandnieces and nephews.
Deloris was born in Estelline, S.D.  After graduation from high school, she obtained her teaching certificate from what is now Dakota State College.  During the next seven years Deloris taught in one room schools.  In 1955 she met Burdette in a taxi cab while attending a convention in Detroit.  They were married in 1956; she continued to teach school while Burdette finished college.  She then moved with Burdette to Seattle where they adopted Greg and Shelley.  Then it was on to Huntsville, Alabama and later to Houston.  In each of the cities, Deloris was active teaching Sunday school and greeting people.  She always said she was born a Lutheran.  She loved to meet new church members and adopted some of them, young and old.  When neighbors had spousal problems, they came to her.  Her love of the Lord and people were endless and will be greatly missed!
A memorial service will be held at House of Prayer Lutheran Church located at 14045 Space Center Blvd, Houston 77062 on Thursday, Sept 17, 2015 at 2 pm.  We would like to suggest in lieu of giving flowers, give something to your favorite charity or the " Lift High the Cross " project at House of Prayer in memory of Deloris.