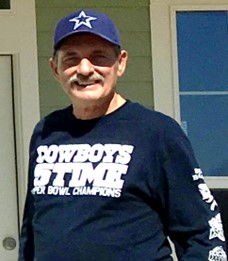 David Wayne Thibodeaux, 67, surrounded by his loving family, passed away January 24, 2023, in Round Rock, TX. A longtime resident of Santa Fe, TX, David was born in Texas City, TX to John and Frankie Thibodeaux on September 22nd, 1955. He proudly served our country in the United States Air Force during the Vietnam war period. David was an Eagle Scout in high school and lettered in football, baseball, basketball, and track. He dedicated a lot of his time to the FOE Eagles #3789. There he served in many roles such as being the chaplain, an inside guard, a trustee, and was the vice president of district #2. David worked for over 28 years as an aircraft mechanic and hydraulic engineer for NASA.
He is preceded in death by his parents John Ervin Thibodeaux and Frankie Marie LeBeouf and step-mother Jeanie Thibodeaux.
He leaves behind to cherish his memories his daughters Amy Cabrera, her spouse Sandy and their children Hayden Cabrera and Andy Cabrera; Sarah Kehrer, her husband David, and their children David Kehrer III, Kenady Kehrer, and Kathryn Kehrer; sister Tala Robinson and husband Brad; brothers Mark Thibodeaux and significant other Sally; Joseph Thibodeaux and wife Bronwyn.
There will be a visitation on Sunday, January 29th, 2023 from 1:00pm to 2:00pm at Crowder Funeral Home in Dickinson, Texas with a funeral service to follow at 2:00pm. Interment will be at Houston National Cemetery on Friday, February 3rd, 2023.
Dad never missed the chance to tell you he loved you!!!
"Laissez les bons temps rouler"
Let the good times roll