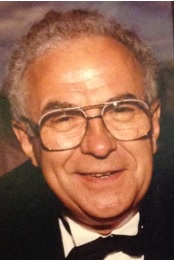 David Rodger Anderson, 83, of Clear Lake City, Texas, passed away on Monday, December 5th, 2016, of kidney failure.
The funeral service will be held at St.Thomas the Apostle Episcopal Church in Nassau Bay on Friday, December 9th at 2pm. Father Michael Stone of St.Thomas the Apostle Episcopal Church will be officiating. Burial will follow the funeral at Forest Lawn East at 4pm. Funeral arrangements are being handled by Crowder Funeral Home.
David was born on June 19, 1933.  He graduated from Brooklynn Tech and continued on to receive a B.S.M.E from Lehigh University.
He was married to RoseMary on February 1st, 1958.  They were married 58 years.
David worked as a Project Engineer in the Space Program for General Electric.  He enjoyed building a 1929 Mercedes Benz kit car as a joint project with his three sons, David, Steven and Paul.
David is survived by his wife RoseMary; sons David, Steven and Paul; five grandchildren Audrey, Alexandra, Eric, Emily, David III and daughter-in-law, Terry.  He has many other family and friends.
David is preceded in death by his brother Ted, his mother Mildred and father Theodore J.W. Anderson.
In lieu of flowers, memorial donations may be given to the Alzheimer's Association. The family of David wishes to thank the hospice team that cared for him at Cornerstone Hospital and especially, Renee Akharamen.