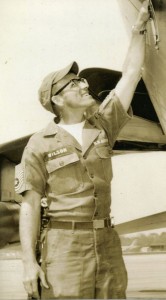 David Lee Wilson a resident of Dickinson, Texas passed away at Texas City, TX on August 28, 2016. He is survived by his wife, Lynn Murphy Vickers of Dickinson, a son Matthew W. Wilson, of Ft. Pierce, FL., step-son Derryl and wife Kim of Dickinson, TX, step-daughter Martha and husband Brian of Corpus Christi, TX. A foster sister, Roberta Colvin of Belmont, WV, a foster brother John E. Simonton and his wife Barbara of Oxford, NC. He was preceded in death by his 1st wife Jeanne Elizabeth Eckart, foster mother, Catharine P. Simonton and foster father Edgar E. Simonton both of Belmont, WV.
David retired Master Sergeant from the United States Air Force in 1972 where he served as an airplane mechanic. From 1956 to 1959, he flew with the Thunderbirds and was crew chief, traveling the world, including parts of Europe, Asia and Iceland.
He loved planes and cars. He enjoyed working in the yard and the garden. He was an avid reader of mystery novels and books about the military.
His lifelong friends, new friends and loving family will look forward to seeing him again in Heaven and will be keeping him alive here on Earth in our memories and hearts.
A Memorial Service in his honor will be held Saturday, September 10, 2016 at 1:00 pm, Clear Lake Presbyterian Church, 1511 El Dorado Blvd., Houston, TX.
In lieu of flowers donations may be made to Disabled American Vets or Asbury University, Wilmore, KY.