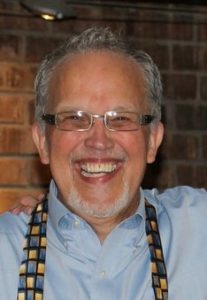 David Lee Durand of League City, Texas, went to be with the Lord on June 12, 2020 at the age of 73.
David was born in Albuquerque, New Mexico on March 18, 1947 to Col. William H. Durand and Carol Durand
Dave was a beloved schoolteacher who invested 48 years of his life in education teaching, loving, and encouraging young people.  Dave was an all-state baseball player at Lawton High School in Oklahoma and went on to play collegiate ball at the University of Oklahoma and later Southwest Texas State.  Although he would achieve a Master's degree in Secondary Education Administration from Drake University, Dave (or "Mr. D" as he was affectionately known by many of his former students) felt his calling was in the classroom. Most of his years as a teacher were spent at Clear Creek High School and more recently at Clear Falls High School in League City. Dave's passion for teaching students was second only to his love for his wife, his family and his devotion to following Jesus. It was at a high school summer camp in Panama City, Florida in 1999 where Dave put his faith in Jesus as his Savior and was baptized soon thereafter. Dave loved being with and serving the high school students at summer camps and it was at one of these camps where he gained his most famous nickname of "Big Daddy". Big Daddy's larger than life personality and his infectious smile became a light that shone the love of Jesus into the hearts of thousands of others in the years that followed.
Dave is preceded in death by his father, William H. Durand, Sr., his mother, Carol Durand, his daughter, Christa Durand, and his brother, William "Bill" Durand, Jr.
Dave is survived by his beloved wife of 38 years, Pamela Durand; his children, Justyn Durand, Blake Durand (Laura), and Logan Baranowski (Brannon); his grandchildren, Lily Baranowski, Carter Durand, Kynlee Durand, Brooks Baranowski and Callan Baranowski, along with countless other friends and family whom he lovingly referred to as his "village".
The family will receive friends at the visitation from 5:00 PM to 8:00 PM on Thursday, June 25, 2020 in the chapel of Crowder Funeral Home in Webster, Texas. Funeral services will be held at Crowder Funeral Home in Webster on Friday, June 26, 2020 at 11 AM.
There will be a funeral procession following the funeral to Forest Park East Cemetery.
In lieu of flowers, the family asks that, in honor of Big Daddy, you consider making a donation to Clear Creek Community Church and designate your gift to "Student Ministry Camps" or "Mission Trips". Gifts can be mailed to Clear Creek Community Church, 999 Egret Bay Blvd.N., League City, TX 77573 or made online at www.clearcreek.org.
As per the Harris County face mask mandate, all guest will be required to wear a face mask to enter the funeral home.
Due to the COVID 19 public gathering restrictions, Crowder Funeral Home recommends visitors to maintain a social distance of six feet from attendees. Maximum occupancy is 125 guests. Please maintain a social distance during the visitation, while seated in the chapel and during the recessional. Your assistance during this difficult time is greatly appreciated. Thank you for your cooperation and understanding.
Also, Crowder Funeral Home will offer the opportunity of viewing the ceremony via a private YouTube Channel. For information on how to access the ceremony online, please contact the family. Thank you.