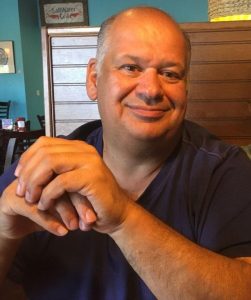 David J. Tauriello passed away unexpectedly Thursday, March 17, 2022. He was born on September 11, 1964 in Buffalo, New York. David followed his brothers to Texas when he was 17 for employment opportunities. It was while working that first year that David met his future in-laws, Bill and Adina Norris. They were the reason David later met his future wife, Deanna, and married in 1996. They had two children, Danielle and Dana. Together the family enjoyed many adventures including camping, fishing and hiking. They especially enjoyed visiting many of America's most beautiful zoos. These adventures culminated in a trip-of-a-lifetime to Italy.
David is preceded in death by his loving parents, Daniel R. Tauriello Jr, Delores Patano Tauriello.
David is survived by his devoted wife of 25 years, Deanna Naquin Tauriello. He leaves behind daughters Danielle Tauriello, and Dana Tauriello. Siblings Daniel Tauriello III (Elizabeth), Dennis Tauriello (Tammy), Debra Baetzhold (Jim). Survived by many nieces and nephews Charlie Tauriello, Grace Tauriello, Daniel Baetzhold, Connor Baetzhold, Jessica Tauriello, Anna Baetzhold, Gena Naquin, Justin Naquin, Michael Naquin, Kyle Naquin, Taylor Gray and 2 great nieces.A service honoring David will be held on Wednesday, March 23rd at Crowder Funeral Home at 111 E. Medical Center Blvd, Webster TX 7759. Visitation will be from 5-7 and service will follow at 7pm.
In lieu of flowers the family is asking for donations to the American Heart Association in David's name.