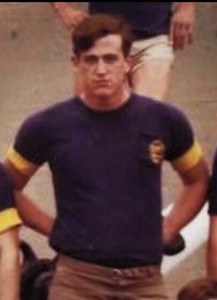 David Geoffrey Marrow, beloved husband, father, son, brother and friend, passed away on Wednesday, June 15, 2016 at the age of 62 after battling cancer for the past several years.
Dave was born to parents Robert and Patricia Marrow on January 6, 1954 in Washington D.C. He grew up as the eldest of five, graduated from Central Catholic High School in Melbourne, FL and graduated with a degree in Biochemistry from the University of Alberta in Edmonton, Alberta, Canada. Dave married Laureen O'Hara on December 29, 1979. Dave and Laureen were married for 37 years, have four children and 4 grandchildren, and another one on the way.
Dave served as a deep sea diver in the U.S. Navy, working on dive missions throughout the Pacific and Asia.  He was based in San Diego and in Hawaii during his time in the Navy.  It was in Hawaii where Dave and Laureen met.  Dave recounted how he had taken Laureen to see Sacred Falls waterfall in Hawaii and on the way home from the waterfall Laureen laid her head on his lap, stuck her feet out the car window, asked if he was Catholic, and that's when he knew he was in love and this was the woman he wanted to spend the rest of his life with.
After the Navy and College, Dave spent most of his career as an Engineer in the Chemical Products industry, supporting complex Analytic Systems for production facilities throughout the world.  He spent his last 19 years at ExxonMobil Chemicals, based in the Houston area. Dave loved living near the ocean and had several boats throughout his life, including a sailboat he restored over the past few years.  Dave loved to sail, motorboat with family and friends, dive, fish and camp.  He loved anything to do with the water.
Dave's greatest joy came from being with his family, both his immediate family and his extended family.  Time spent with he and Laureen's children, Dave's brothers and their families and Laureen's brothers, sisters and their families was one of Dave's favorite things to do. Nothing brought more joy to him than when his grandkids were visiting.
Dave also enjoyed a wide variety of interests including travel, woodworking, music, reading and especially his Harley Davidson.  Dave loved to dance and loved to occasionally have fun on the golf course, especially when he could annoy any of his brothers, sons or friends in the process.  Dave was a creative soul in many ways that might surprise people such as writing a Children's Book titled "How to Catch an Alligator" for his grandchildren or presenting gifts of wine with witty, custom labels, created by Dave.  He had a wonderful sense of humor as most everyone who knows him quickly realized.  Dave's true compassion for others, his sense of humor and his friendliness garnered him many friends over the years while working in various places around the world.  Dave volunteered as a coach when his sons & daughters played soccer growing up.  He loved to spend time helping young people.  Dave was a lifelong Catholic and active in church activities wherever he lived.  Dave, Laureen and their family have been active members of St. Paul's Catholic Church in Nassau Bay, TX since 1999.
Dave is survived by his wife, Laureen Marrow; his children; Alesha Hansen, Heather Lucas, Luke Marrow and Dylan Marrow; brothers Mike Marrow, Rob Marrow and Chris Marrow; Four grandchildren, Aike, Axelle, Kaison and Audie, (and #5 on the way), as well as aunts, uncles, cousins and in-laws.  Dave is preceded in death by his parents Bob and Pat Marrow and his brother Steve Marrow.
A viewing and prayer vigil will be available to the public at Crowder Funeral Home, 111 E. Medical Center Blvd, Webster, TX on Sunday, June 19, 2016 between the hours of 6:00 and 8:00 p.m. Anyone who wishes to say a few things about Dave are welcome to do so at the viewing and vigil. 
A Funeral Mass will be held for Dave and open to the public at St. Paul's Catholic Church, 18223 Point Lookout Drive, Nassau Bay, TX on Monday, June 20, 2016 at 11:00 AM.  A lunch reception will be held in the church hall after the Mass.
We love Dave dearly and will miss him greatly.
The Marrow Family