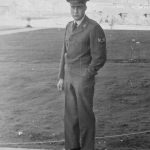 David Charles Wheeler chose to go Home Tuesday, January 22, 2019. He was born on August 01, 1932 in Joshua, Texas. At 86 years old, he was preceded in death by many loved ones. Among those his father, Luther Burtes Wheeler, his mother, Emma Estelle Brannon Wheeler, brothers, Glennon Allman Wheeler, Malcolm Burtes Wheeler, and Carl Loman Wheeler. Also preceding David in death was his loving wife of Forty-four (44) years, Frances Modena Owens Wheeler who passed on April 23, 1996 and his wife Karen Joy Arney Wheeler. His daughters, Karen Denise Troyer and husband Patrick and Diana Kaye Carroll and husband Russell were blessed to have him back in Texas for the last six months after his move to California in 1991. He resided at Sodalis Assisted Living in San Antonio making many new friends those last six months.
David loved his grand children and great-grandchildren (two and four legged). The grandchildren include Randy Lane Olsen, Cory Micah Olsen, Ashley Lace Carroll, Nathan Michael Carroll and his wife Dr. Emma Carroll, and great-grandchildren Knox, Grey and Iain Carroll.
Entering the Air Force at 17 in October of 1949 David served 25 years and retired in June 1974. He retired as a USAF SAC Chief Master Sergeant. He began that career as an Aircraft Mechanic working with B-52s and ended in missile electronics for the Titan II. He got his GED and later a BS at Kansas Newman while in the Air Force. David was a pilot, a flight instructor, and enjoyed aviation. He worked at Cessna Aircraft in Wichita, KS and Boeing Military Airplane Company in Wichita, KS.
From a boy picking cotton after school with his Mom and brothers, David was able to see many places in the U.S. during his military career. Basic training was at Lackland AFB in San Antonio and some of the other bases were in Anchorage, AK; Merced, CA; Spokane, WA; Bossier City, LA; Frobisher Bay, Canada; Rome, NY; Wichita Falls, TX; and Wichita, KS.
Moving back to Texas for health reasons was difficult for David having to leave long time girl-friend, Kathy Woodward and her family as well as his church family at Montague United Methodist. After the death of his wife, Modena he moved from Red Bluff, CA to Montague, CA and finally to Yreka, CA. His apartment in Yreka had a beautiful view of Mount Shasta.
We laugh that David's claim to fame was playing in the Joshua Owl's homecoming game against the Abbott Panthers on Friday, November 19, 1948. Joshua won 54-0. In high school David went by Charles and was right tackle on the starting lineup at 155 pounds against Willie H. Nelson, center at 126 pounds!
David C. Wheeler will be missed by many!
A Grave Side Ceremony with Military Honors provided by United States Air Force will be held on Monday, February 18, 2019 at 11 am at Burleson Memorial Cemetery
490 Memorial Plaza, Burleson, Texas 76028 with Deacon Russ Carroll officiating.