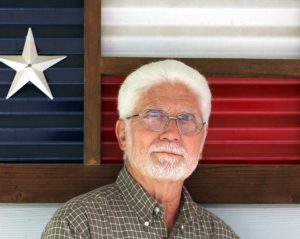 David Arlington Howison, 74, of Alvin, TX passed away November 19, 2017. Mr. Howison was born November 22, 1942 in Delaware, OH to Arlington and Elizabeth Howison. David and his family moved to Corpus Christi, TX early in his life to escape the harsh weather that was effecting his health as a child. David, his parents and sister lived in a small travel trailer for 2 years while his dad hand-built their small home. David graduated from Calallen High School in 1962 where he was a proud member of the football team and the band. He enjoyed following high school football and the typical successful seasons of his alma mater. His greatest joy and pride came from his 3 grandchildren and his great-granddaughter.
David is a 13 year resident of Alvin after moving to Friendswood in 1971. He has been a member of Pipefitter Local 211 for over 50 years.
Mr. Howison is preceded in death by his parents Arlington and Elizabeth; daughter Wendy Howison; son Jeffery Lee Howison.
David is survived by his loving family, son David Howison, Jr. and wife Cindy; daughter-in-law Michelle Howison; sister Eleanor Hartman and husband Carlton; three grandchildren Kelsei Jeannette Howison, Trenton Andrew Howison and Jamie Elizabeth Howison; one great granddaughter Kylee Elizabeth Howison; niece Laura Hoch and husband Ron and their 2 sons; nephew Mark Webb and wife Tara and their son and daughter; along with numerous other loving family members and many great friends.
A Memorial Service will be held at 2:00 pm on November 25, 2017 at Crowder Funeral Home, 2422 Broadway Pearland, TX 77581. A celebration of his life will immediately follow at County Line Event Center, 18232 County Rd 127 Pearland, TX 77581.
In lieu of flowers the family requests your consideration of making a donation to Yay 4 Life! at www.yay4lifetexas.org or PO Box 1703, Friendswood, TX  77549. Yay 4 Life! was established to provide support for cancer patients and their families after the death of his son, Jeffery. David dedicated many, many hours to help make Yay 4 Life! the success that it is today.