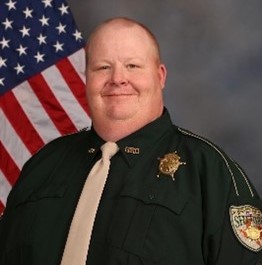 Daryn "Bubba" Hinze, 47, passed away at his residence on December 4, 2022.  He was born on July 21, 1975, in Galveston, Texas to Larry and Sandy Hinze.
Daryn was a Sergeant with the Galveston County Sherriff's Office serving the Corrections Division for the past 13 years.  Daryn was a fun loving man who lived life to the fullest and was always belting out a tune in his tractor.  He was witty and always cracking jokes.  He enjoyed hanging out with his friends, baling hay, hunting at the deer lease, volunteering at the Galveston County Fair and Rodeo and watching the Houston Astros and the Dallas Cowboys.  He was the best Brother, Uncle and Great-Uncle to his nieces and nephews and loved each one with all his heart.
Daryn was preceded in death by his parents, Larry and Sandy Hinze, and both his maternal and paternal grandparents.  He is survived by his sisters, brother, brother-in-laws, nieces, nephews, great-nieces, great-nephews and many family members and wonderful friends.
A memorial service will be held on Tuesday, December 13, 2022, at 1:00 p.m. at the Galveston County Fair and Rodeo in the Ed Pickett Memorial Hall in Hitchcock, Texas with Pastor Kevin Garber officiating.
In lieu of flowers, the family requests memorials be made in Daryn's name to The Galveston County Fair and Rodeo, PO Box 889, Santa Fe, Texas 77510.