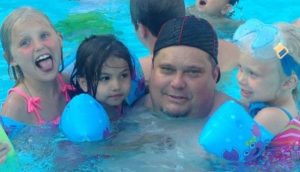 Darrell Dale Hoppe, Jr., of League City, Texas, passed away on June 8, 2021. Darrell was born on March 6, 1973 in Galveston, Texas to loving parents Darrell Dale Hoppe, Sr. and Sharon Kay Bolton Hoppe. He will be missed by all who knew and loved him.
Darrell was known for being an avid fan of music and loved spending his time attending concerts and live performances. His passion for music is something that he passed on to his children. Most importantly, Darrell is remembered as loving and devoted father and grandfather. He would never hesitate to do whatever was needed for his children. He loved them selflessly and without end.
Darrell was preceded in death by his mother, Sharon Kay Hoppe. He is survived by his father, Darrell Hoppe, Sr., daughters Jayme Lea Laverne Hoppe, Viviene Kay Hoppe, and Allison Kate Hoppe, sons Dekota Dale Hoppe and wife Alexis and Marcus Hoppe and fianceé Erika Quintanilla, and grandchildren Dreyson Dale Hoppe and Daygon Culbertson Hoppe.
A visitation for Darrell will be held on Monday, June 14, 2021 at from 4:00 PM to 6:00 PM at Crowder Funeral Home in Dickinson, Texas. A funeral service will follow the visitation at 6:00 PM.